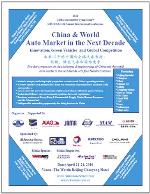 BEIJING - To date, a total of 40 speakers have confirmed their participation at CBU/CAR's inaugural 2010 Global Automotive Symposium (GAS 2010).

GAS 2010, with a theme of China and World Automobile Market in the Next Decade: Innovation, Green Vehicles and Global Competition, will be held on April 22-23 at the Westin Beijing Chaoyang right before Auto China 2010 (April 23-May 2), the year's largest auto show in China.
The one and a half-day general sessions on April 22-23 will feature keynote addresses from multinational and domestic CEOs and government officials, a round table session and presentations from industry analysts and senior OEM and supplier executives. Four breakout sessions will be organized on the afternoon of April 23, which will cover
Sales & Supply Chain, Human Resources, Aftermarket and Heavy-Duty & Commercial.

GAS 2010 will begin with a welcome dinner on April 21 (Wednesday 19:00-21:00). A cocktail reception will be hosted on April 22. An executive tour of local manufacturers and a golf tournament will be organized for speakers and attendees on April 24.

GAS 2010 is sponsored by Ernst & Young, Hyundai Motor Co., Total Lubricants, Delphi and Gentex Corp., supported by ACEA (European Auto Manufacturers' Association), JAMA (Japan Automobile Manufacturers Association), AIAG (Automotive Industry Action Group), OESA (U.S. Original Equipment Suppliers Association), SIAM (Society of Indian Automobile Manufacturers) and CEIBS (China Europe International Business School). Ward's Auto World is our media sponsor, Gasgoo, Sinotrust's Motorlink and China4Auto.com are our media supporters.

The 40 confirmed speakers, listed alphabetically by last name, are:
Abulaban, Majdi, President, Delphi Asia Pacific
An, Jin, President, Jianghuai Automobile Co., Ltd.
Broek, Cees ten, Director of Communications, World Steel Association (Supply Chain Management)
Chen, Yilong, General Director, Asia Pacific Affairs & Chief Rep. China, AIAG (Supply Chain Management)
Cheng, Jack, Vice President, Fiat Group China (Supply Chain Management)
Chotai, Ashvin, Managing Director, Intelligence Automotive Asia (Moderator)
De Koker, Neil, President & CEO, OESA
Fang, Zhangfu, HR Director, Dongfeng Motor Co., Ltd. (HR)
Fierst, Karen, Founder, KerenOr Consultants (Aftermarket)
Hanley, Michael, Global Auto Industry Leader, Ernst & Young
Huang, Xiangdong, Vice President, Guangzhou Automobile Group Corp.
Hodac, Ivan A.F., Secretary General, ACEA
Jiang, Weidong, Chairman, Shandong Wuzheng Group
Kang Wenzhong, President, China Auto Maintenance & Repair Trade Associatino (Aftermarket)
Li, Chunrong, Vice President, Dongfeng Passenger Vehicle Co.
Liu, Joseph, Executive Vice President, Shanghai-GM
Liu, Shijin, Deputy Director, State Development Research Center
Lockstrom, Martin, Research Associate, China Europe International Business School (Supply Chain)
Ma Shunjun, Assistant to General Manager, China CITIC Bank, Auto Financial Services (Aftermarket)
Marx, Gerrit, President, Daimler Trucks China (Heavy-Duty & Commercial)
McClafferty, Kevin, Associate Director, PricewaterhouseCoopers
Mulligan, Frank, Managing Partner, Accetis International (HR)
Nakamura, Kimiyasu, President, Dongfeng Motor Co., Ltd.
Noh, J. M., President, Beijing-Hyundai Motor Co., Ltd.
Osterman, Dietmar, Director, PRTM
A.S. Puri, Senior General Manager, Tata Motors
Seto, Dominic, Managing Director & VP, Asia Pacific, Delphi Product & Service Solutions; VP, Delphi China (Aftermarket)
She, Zhenqing, Chief Analyst, Chinabus.info (Heavy-Duty & Commercial)
Shen Jinjun, Executive VP & Secretary General, China Automobile Dealers Association (Aftermarket)
Sun, Fan, CFA, Hewitt Associates (HR)
Tian, Guohua, Secretary General, China Auto Maintenance Equipment Industry Association (Aftermarket)
von Meister, Rudi, General Manager, IVECO China (Heavy-Duty & Commercial)
Wang, Dazong, President, Bejiing Automotive Industry Holding Corp.
Wei, Jianjun, Chairman, Great Wall Motor Co., Ltd.
Xu Changming, Director of Economic Research, State Info Center
Xu, Guowei, Deputy Director, HR, Jianghuai Automobile Co., Ltd. (HR)
Xu, Liuping, Chairman, Chang'an Auto Group Co., Ltd.
Yang, Jian, President, Geely Holding Group
Yang, Zaishun, Deputy Secretary General, China Passenger Vehicle Association (Heavy-Duty & Commercial)
Yin, Tongyue, Chairman & President, Chery Automobile Co., Ltd.

For more information and to register for GAS 2010 (early bird registration discount of $200 ends on March 19), please visit our conference site at http://www.chinaautoreview.com/conference/Introduction.aspx?ID=34.