Clutch Over Running Pulleys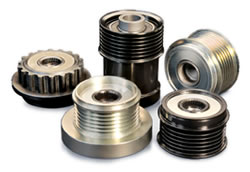 We have an extensive range of clutch / over running pulleys available from stock, replacing OE manufacturers such as Bosch, Denso, Ina, Litens and Zen.
Clutch pulleys have become an important part of modern day motoring, as the need for higher fuel efficiency and lower CO2 emissions are being asked from car manufacturers and governing bodies.
The clutch pulley reduces vibration in the belt system with the increase and decrease of engine speed, it also disengages when your vehicle decelerates creating less resistance resulting in more efficiency for the engine.